Our Story
How We Fell in Love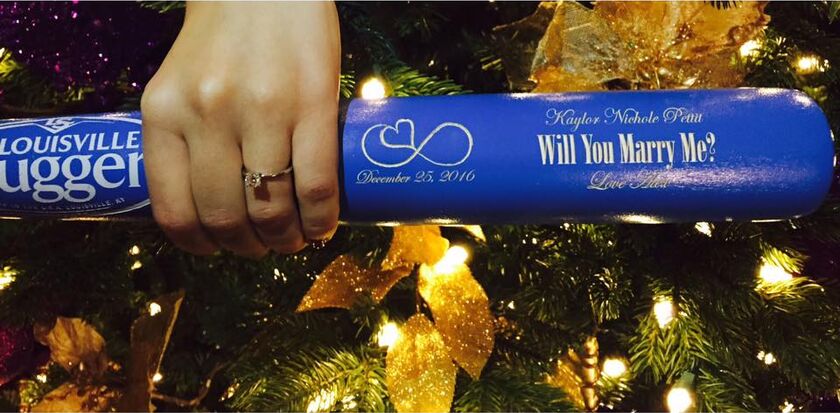 Now this is a story all about how our life got flipped turned upside down
And we'd like to take a minute, just sit right there and we'll tell you why we're getting married in August this year
In East Louisville born and raised, at Fan Outfitters spending most of his days
Ringing up customers, acting real cool, reppin' big blue and not the other school
When a good-looking girl wearing cardinal red showed up and he couldn't get her out of his head
It took one little look and he could tell right there, he was going to marry that girl and move to Bel-Air.
All kidding aside, we met in 2011 while working at Fan Outfitters in Louisville. We will both tell you that we saw the other first and knew immediately we were meant for one another. It took a year of flirting before we finally went out on our first date. After close to five years of dating, Alex finally got down on one knee in the most special way. It was on Christmas Day 2016 when we were exchanging gifts. I saw a long, slender box and knew immediately it was a bat, which made sense because Alex works at Louisville Slugger. I wanted to open that first (because I thought it was a Cubs World Series bat), but he said to open it last. After opening our other gifts, I finally got to open the bat. I saw that it was blue and thought it was definitely a Cubs bat. Man was I shocked when I turned it over and it said "Will You Marry Me?"! I immediately began shaking and saying "Are you serious???". He got down on one knee and I couldn't say YES fast enough! The man of my dreams and best friend had asked me to spend forever with him. I was on cloud nine!
Six years together now and we still fall more in love with each other every day. We are so lucky to have found a best friend in one another (even though we are a house divided). We could not be more excited to get married and share the day with all of you! See you in August!
The Wedding
Saturday, August 4, 2018
4:30 PM
Ceremony and Reception
Bluegrass Wedding Barn
3050 Mitchellsburg Rd, Danville, KY 40422, USA
Wedding Party
Katy Rhodes - Matron of Honor
I have known Katy for 16 years after meeting in 4th grade. We quickly became attached at the hip, doing absolutely everything together. There is never a dull moment around us so the past 16 years have been quite the adventure! She is the most loving person and my best friend. I could not imagine having anyone else stand next to me as I marry Alex!
Olivia Raley - Bridesmaid
I have also known Olivia for 16 years! Mrs. Parman sat me next to her on my first day at Calvary Elementary and that was the best decision ever! She is one of the most genuine people I have ever met. We have shared so many memories with one another and I would never celebrate the most important day of my life without her!
Amber Hastings - Bridesmaid
I met Amber when we were in 6th grade, but I then moved schools. We re-connected as freshman in high school. We were lucky enough to have 5 of our 7 classes together and bonded instantly! Amber is always smiling and laughing, so I know I will have the best time when I am with her. There is no way I could celebrate without her by my side!
Elizabeth Allen - Bridesmaid
I met Elizabeth during our freshman year of high school. We ended up sitting next to one another due to our last names being close alphabetically. While we may not have "clicked" initially, we most definitely grew on one another! As one of the most loyal people I know, I could not imagine going through this special time without her!
Mary Allison Doyle - Bridesmaid
I met Mary Allison 6 years ago. As Alex's sister, I was definitely intimidated at first, but as I grew to get to know her I realized that we were more alike than different and had a lot to bond over. I truly feel as though I am gaining a sister. Our day would not be complete without her!
Cash Cassady - Best Man
Cash and Alex met while attending the University of Kentucky where they both joined the Delta Tau Delta fraternity.
Adam Zipperle - Groomsman
Adam and Alex are first cousins and grew up living just a couple houses apart. Being close in age and distance, they grew up spending much of their time together.
Eric Zipperle - Groomsman
Eric and Alex are first cousins as well. Eric also grew up just a couple houses down the street. Due to living so close, they grew up more as brothers than cousins.
Jim Higdon - Groomsman
Jim and Alex are also first cousins. They grew up in different cities, but grew up feeding off of one another's sarcasm and wit.
Osniel Gonzalez - Groomsman
Osniel and Alex are technically cousin-in-laws, but definitely see each other and act more as brothers.